ABOUT FINO FINO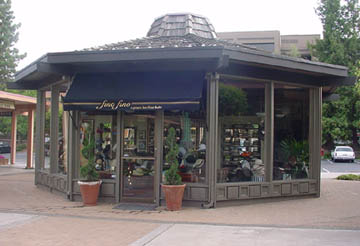 I opened Fino Fino in the spring of 1994 at Allied Arts Guild in Menlo Park and moved here to Sharon Heights in the spring of 2001. I have been a hat-wearer all of my life and grew up at a time when people were still wearing hats so I learned early on that a hat completes your outfit like no other accessory. Then, along came the '60's and "big hair" for women and lower and lower headroom in cars that discouraged hat-wearing for men. I know the hat industry has always blamed John Kennedy for the demise of men's hats, but I know very few men who would be influenced by what the president was wearing or not wearing. Jackie Kennedy certainly influenced women's fashions and the "pillbox" became her signature hat because it was about the only shape that could fit into her bouffant hair style. And at that time, protocol still called for the First Lady to wear a hat.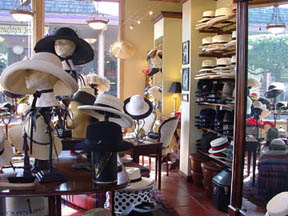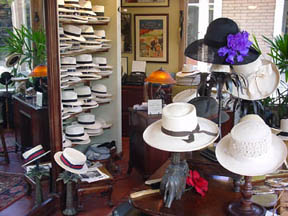 I have had a long-time interest in fine Panama hats and intended for them to be the focus of my shop that took its name from a grade of Montecristi Panamas. Fino Fino is Spanish for "fine" (the same in Italian) and since I wanted to concentrate on the best it seemed an appropriate name for my shop. I soon added a number of milliners who make fine women's hats. Contrary to popular belief, there are many young and talented milliners who make women's hats coming into the field. I think this is happening due to more people wearing hats for sun concerns and also as they become more aware that all hats are NOT alike. The same is not true for men's hand blocked hats. There are only a handful of blockers in the country who make hand blocked and custom men's hats. Hopefully, that will change too, but doubt the number of men's hatters will ever equal the number of milliners. As you no doubt know from experience, one size does NOT fit all. Also quality materials make an enormous difference in the look and fit of a hat. As my key tags state, "Hand blocking is the key to a fine hat." A machine blocked hat that has been stamped out like car parts will never look, feel or fit like a hand blocked hat.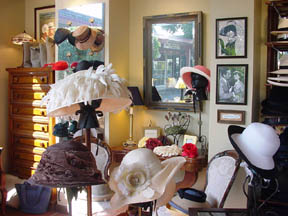 Now, with the aid of digital cameras and email, it is a little easier to help the far away customer but I still think the best way to buy a hat is in person so hope you will come by when you are in the San Francisco Bay Area. Either way, I look forward to meeting you.
Carolyn Busch, Proprietor

Last updated May 31, 2008.
Copyright © Fino Fino, 2008, all rights reserved.